XRP Price Prediction: XRP/USD Price Continues to Trade Slightly in a Retracement-Style Move a Bit Over $0.40 Level
XRP Price Prediction – March 13
There has been a continuation of a kind of market correctional moves in the trading operations of XRP/USD for quite a while. The move has now appeared to have turned into a ranging trend around the levels of $0.50 and $0.40.
XRPUSD Marke
Key Levels:
Resistance levels: $0.55, $0.65, $0.75
Support levels: $0.35, $0.30, $0.25
XRP/USD – Daily Chart
The formation of some candlesticks around the values of $0.50 and $0.40 has affirmed that a range-bound movement is ongoing in the crypto-trade. Like wisely, the two trading SMA indicators are also placed within the trading spots earlier on mentioned. The 14-day SMA trend-line is over the 50-day SMA as they both point towards the east direction to equally attest to the current ongoing range-moving mode of the market. The Stochastic Oscillators have slantingly southward from range 80 to 40. They seemingly are attempting to cross the hairs at range 40. That could eventually give way to seeing the possibility of having higher lows within the range trading spots.
Will there soon be either a breakout or a breakdown in the XRP/USD price?
In the current situation trading of Ripple XRP/USD, it is bound to happen either in the medium or long run that a violent move has to occur to change the market direction northwardly or southwardly. That said, a forceful breakout of $0.50 will signal the return of a bullish trend in these crypto-economy business transactions. In that wise, bulls will be expected to build on that such breakout and, push past most of the recent previous highs.
On the flip side, bears are also in almost the same manner; have to build on a sudden breakdown of the lower range line at $0.40. A breakdown of the said level may devoid of sustainability. In other words, selling pressures have no long trading stance under the value of $0.40 as price has the most potential of coming up with a reversal manner at the point.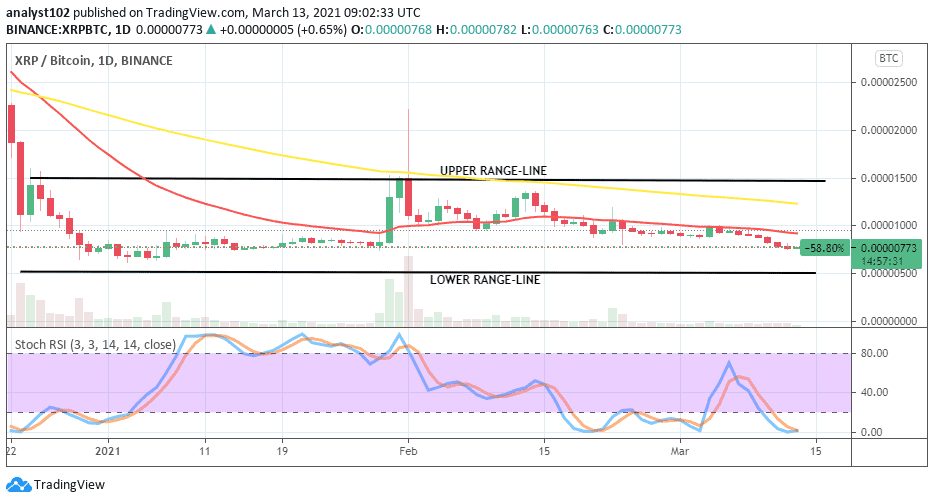 XRP/BTC Price Analysis
Comparing the trading capacity between XRP and BTC, it clears that there has a prolonged featuring of lower lows between the two trading instruments. The base-crypto has continually suffered even within the range trading zones until the present. The 50-day SMA trend-line is located above the 14-day SMA trading indicator. And, they are both placed over the current price trading spot. The Stochastic Oscillators are dipped into the oversold region. They have closed the hairs within it. That suggests the possibility of seeing an emergence of indecision market trading situation. However, a rebound is expected to come to play in near sessions.