Bitcoin (BTC) Price Prediction: BTC/USD Is Stuck Below the $52,000 Resistance as Bulls Fail to Break Resistance
Bitcoin (BTC) Price Prediction – March 8, 2021
Buyers have consistently pushed BTC/USD price to the $52,000 resistance. This is an attempt to break the resistance level. If the bulls break the $52,000 resistance level, the BTC price will rally to $58,000 high. Unfortunately, the bulls are yet to break the recent high. Bitcoin price is presently retracing from the $52,000 resistance.
Resistance Levels: $58,000, $59,000, $60,000
Support Levels: $40,000, $39,000, $38,000
The king coin is presently stuck between the $48,000 and $52,000 price level. In early March, Buyers have been making concerted efforts to push Bitcoin price to the previous highs. On March 1, the bulls broke the $50,000 psychological price level but the price made a pullback to the $48,000 support. This propels Bitcoin to rally to the $52,000 resistance. The bull could not sustain the bullish momentum above the $52,000 high because of intense selling pressure. Today, Bitcoin is facing another rejection at the $52,000 resistance as bulls fail to break the recent high. A breakout above the $52,000 will push the BTC price to $58,000 high. Presently, the BTC is falling as the market resumed a range-bound movement.
No Blanket Crypto Ban in India, By Nirmala Sitharaman
There has been no blanket ban on cryptocurrency, says finance minister, Nirmala Sitharaman. The minister indicated that report of a blanket ban on cryptocurrencies was overstated. According to the minister, she said: "Yes, a lot of negotiations, discussions are happening, with Reserve Bank," said Sitharaman. "The Reserve Bank will be taking a quorum on how, what kind of unofficial currency, cryptocurrency will have to be planned, and how it has to be regulated. But also, we want to make sure that there's a window available for all kinds of experiments which will have to take place in the crypto world.". She maintains that : "The world is moving fast with technology. We can't pretend that we don't want it. […] I can only give you this clue: that we are not closing our minds, we are certainly looking at ways in which experimentations can happen in the digital world, in cryptocurrency, and so on."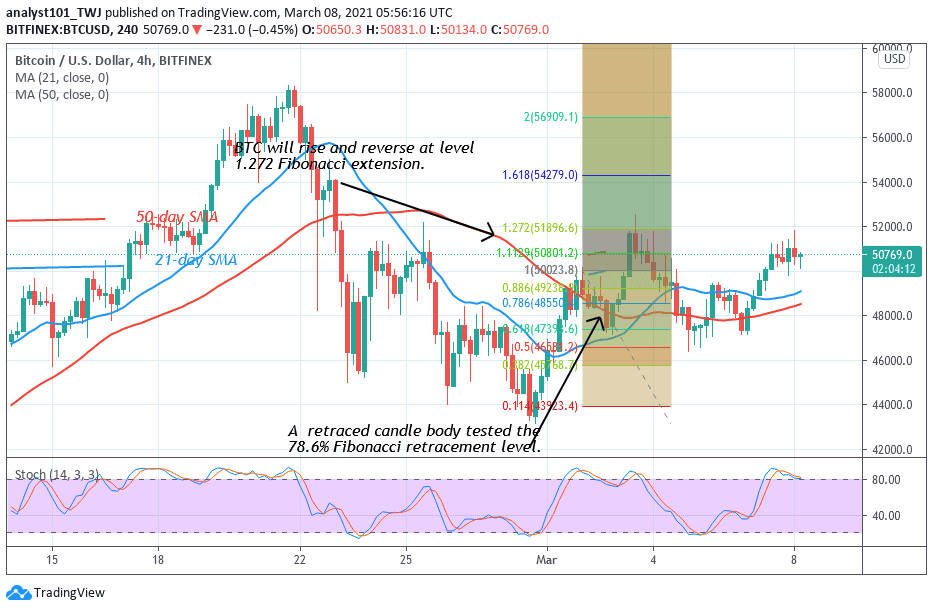 Bitcoin price has retested the $52,000 resistance thrice after the February 23 breakdown. The Fibonacci tool has remained the same as the market continues its range-bound movement. On March 2 uptrend; a retraced candle body tested the 78.6% Fibonacci retracement level. The retracement indicates that Bitcoin will rise but reverse at level 1.272 Fibonacci extensions or the high of $51,896.60. From the price action, the market has reversed twice because of the intense selling pressure.